By Graham Linscott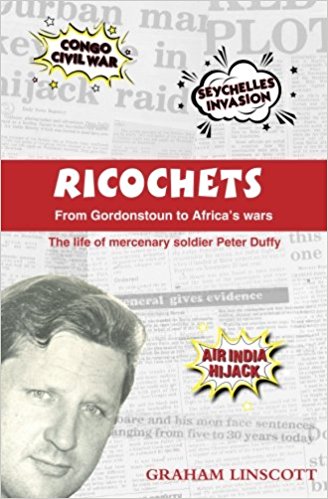 PETER Duffy was an adventurer born into a well-to-do Scots family and educated at Gordonstoun, the public school also attended by Prince Philip and Prince Charles.
He came to Africa in the 1960s, first to work on coffee plantations in Tanganyika (as Tanzania was still called), then gravitated south to Natal, a province of South Africa.
He was recruited into the mercenary force that fought in the Congo civil war then, on his return to the seaport city of Durban, became a freelance photographer then a fully professional news photographer with a newspaper group, with a zest for awkward and confrontational situations.
He was later to participate in the unsuccessful attempt by a mercenary force under Colonel Mike Hoare to invade the Seychelles Islands; also in the hijacking of an Air India aircraft for the group to escape from the Seychelles. For this, he and Hoare served several years in Pretoria Central Prison.
Duffy was a larger than life character and a gifted raconteur. Although his profile fitted that of the traditional remittance man - the wayward son sent to the colonies and paid to stay there by an embarrassed family - he always denied this, saying he was driven purely by a need for adventure.
In Ricochets, Graham Linscott, who knew Duffy well over many years, tells Duffy's vivid life story.

To order online click here - Ricochets: From Gordonstoun to Africa's Wars: The Life of Mercenary Soldier Peter Duffy

Or alternately you can email Lee from BK Book Binders or Peter from Adams Book Store