Edited by Graham Linscott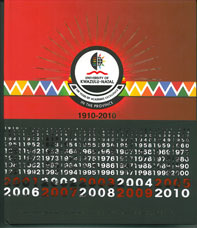 Tertiary education began in the South African province of Natal (now KwaZulu-Natal) in 1910 at the Natal University College in Pietermaritzburg, provincial capital in the newly-formed Union of South Africa.
This hard-back, lavishly illustrated souvenir publication traces the development of the university from humble beginnings to what it is today: a mega-university with five campuses in two cities. The University of KwaZulu-Natal has an outstanding school of agriculture; an outstanding school of engineering; two leading law schools; a medical school that is at the cutting edge of research into HIV/Aids and tuberculosis; a teacher training school; and schools in the pure sciences and the humanities. It espouses African Scholarship, which draws on international as well as local academic inquiry, to appropriately serve the needs of the people of the continent.
Each of the five campuses has contributed its own ethos and background. The story of the university's development is in many ways the story of South Africa itself. The traditional liberal ethos of the Pietermaritzburg and Durban campuses was suddenly confronted by the harshness of Afrikaner nationalism and apartheid. The Medical School produced the fermentation of radical disaffection that showed itself in the ideas of Black Consciousness, which inspired the Soweto uprising, which led in turn to the unravelling of apartheid. The University of Durban-Westville originally served only the Indian community as part of the grand design of apartheid, but soon developed into another site of resistance.
The book draws together these threads and is superbly laid out with photographs from the early days right up to the present.