By Graham Linscott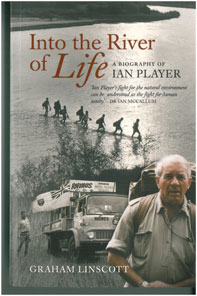 Ian Player has been a towering figure in conservation for decades. He pioneered the Pietermaritzburg-Durban canoe marathon, which introduced him to conservation and its ethos. He led the team of the Natal Parks Board that saved the white rhino from near-extinction through an innovative policy of capture and relocation. He fought successfully for pristine wilderness to be at the core of the Zululand reserves. He launched Wilderness Trails, which for the first time brought to city dwellers the atavistic thrill of wilderness. He launched the Wilderness Leadership School, which has had a profound effect on a range of international figures. He organised and launched the World Wilderness Congresses which still convene regularly, the world's longest-running wilderness campaign.

Player has articulated and championed the sense of wilderness being something internal and essential to the make-up of humankind; part of humanity's evolutionary experience, something spiritual, his thinking underpinned by the work of CG Jung. For Player, wilderness is not something optional or peripheral, it is essential to humankind's well-being and has to be preserved. He has given the cause of wilderness an intellectual cutting edge it did not have before.

He has fought tirelessly over the decades, and shown consummate political skill, in opposing with great success the depredations of giant international companies that are driven by easy dollars instead of following the more inconvenient and difficult course working within nature.

The white rhino, and this time its black cousin also, are threatened again, this time by the depredations of highly sophisticated and well-equipped poachers who serve the deluded demand of a growing and increasingly wealthy market in the Far East. But this time these great beasts at least have the support of organised conservation agencies. An entrenched conservation ethic and mobilised public opinion are bulwarks against the poaching. It was not always so. Ian Player's story is the story, set in Zululand, of a growing realisation worldwide of how much humanity's future depends on Man finding his true place within the Gaian web of nature.