By Dr. Don Beck & Graham Linscott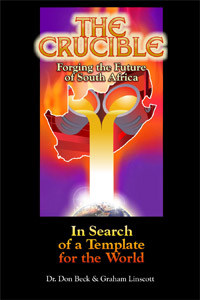 The Crucible was written at a time South Africa was floundering for answers to its violence-wracked political and social dilemma in the immediate aftermath of FW de Klerk's unbanning of the ANC and other liberation movements, before political and constitutional negotiations began.
It reframed the debate, replacing race as the primary issue with the insights obtained from a new analytical method based on the pioneering research in the United States of the late Clare W. Graves, of Union College, New York.
Beck, a protégé of Graves, had been working extensively as a consultant in South Africa and had made significant contact with the major role players, including the National Party and the ANC. He saw the relevance of Gravesian analysis to South Africa's challenges and teamed up with Linscott, a seasoned writer and analyst of African affairs, to produce a book that set out a framework for South Africa's future.
Fifteen years on, there is little or nothing the authors would wish to alter.
The Crucible was an early exposition of Gravesian analysis that used South Africa as a template. Beck and Christopher C Cowan were to develop its theme into a generalised philosophical construct with Spiral Dynamics: mastering values, leadership and change (Blackwell 1996), and the prolific American philosopher/author, Ken Wilber, has since incorporated Beck's ideas into his own analysis.
In 2006, Alex Rollin and Cherie Beck (no relation) negotiated to republish The Crucible from Washington, in a new dustjacket.
Visit the Crucible book site for more information or to order.